Tomorrow marks my 54th birthday and I still feel as young as ever. As you might know, Pearl is my birthstone. My husband already gave me lovely pearls for my advanced birthday gift. He always gifts me with pearls. The pearl is the queen of gems and the gem of queens. Well, I might not be a queen but I am definitely the queen in the eyes of my husband.
This golden pearl on my palm is the most gorgeous South Sea Pearls I have ever laid my eyes on. I wrote more about this beautiful pearl after my trip to the pearl farm in Palawan. The luster is stunning. I have never seen such shimmering brilliance.
After my visit to the colorful world of the Pearl Farm in Palawan, I understood the value of this Ultimate Orient- the Philippine Golden Pearl.
This golden south sea pearl represents the triumph of collaboration between man and his environment. A pearl farm must , by necessity of its goal, remain a pristine environment. Oysters must live and thrive in clean, moving water, with constant tidal patterns and temperatures.

Photo via Vince Golangco
I am humbled and honored to be one of the "Pearl Ambassador" by Jewelmer, the Avant Garde in the jewelry and pearl industry. Other Pearl ambassadors include Vince Golangco, Hannah Villasis, Anna Oposa and Jayvee Fernandez.
No I am not a Pearl Ambassador to serve as their model to showcase the lovely Golden South Sea pearls. In a way, I do too. If you spot this lovely necklace draped on my neck, it serves not just as a fashion ornament but as reminder that only in pure, clean and fresh seas that the oysters can produce such lustrous and beautiful golden pearls.
As a Pearl Ambassador, I hope to spread the word about protecting our Philippine seas and to preserve the habitat of the many sea creatures that live there. Together with the other Pearl Ambassadors, we hope to help Jewlemer protect not only the seas of Palawan, where the Golden Pearl Farms are located but the seas of the Philippines and the world.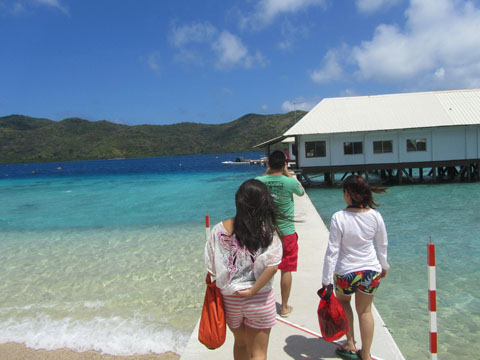 The Project 7000 is an advocacy initiated by Save Palawan Seas Foundation (SPSF) , and Yehey. Seven thousand pledges for a better tomorrow. Environmental stewardship is the responsibility of all, and the actions we take – or fail to take – will decisively impact the future of our oceans and forests.
Make a pledge at Project Seven Thousand . Please join me as we make a pledge to protect our environment. It starts with a single pledge that is lived and shared with others to create a change for a promising future. Our journey begins now.
How does this post make you feel?