It was in 2007 on my 50th birth year that I first tried non-invasive skin tightening procedure. My sister, Belen, a dermatologist based at St. Luke's Dermatology Center told me to try this non-invasive skin tightening treatment using Tenor Radio Frequency (RF). She said RF will tighten my chin, minimize the eyebags, soften the acne scars and fine lines. Why not? The procedure is non-invasive, fast, easy, and requires no downtime. So today, I got my first RF session. Don't ask me how much it costs. It's terribly expensive. I saved on professional fee though because my sister lovingly did the procedure. And it doesn't stop in one session. I have to have at least 3 or 4. Phew.
So what was the Radio Frequency like?
Let me say No Pain, No Gain. It's "ouch" as the heat reaches 40 degrees celsius. As my sister passed the unipolar probe on my face, I'd often yelp as I felt the burning sensation. The aim is to deliver a controlled amount of radio frequency energy into the skin.
With each contact onto the skin, the treatment probes uniformly heats a large volume of collagen into the deeper (dermis) layers of the skin and its underlying tissue while at the same time protecting the outer layer (epidermis) of the skin with its cooling system. It is designed to cause immediate increase in temperature, thus causing collagen contraction followed by new collagen production. Heating to these tissue depths therapeutically improves local circulation, promotes fibrous tissue breakdown, and helps to manage areas that are subject to edema by promoting the re-absorption and drainage of retained fluids and toxins.
Collagen is responsible for making skin plump, tight, and firm. After a the treatment, the skin tightens, and wrinkles diminish or disappear.
My sister applied all throughout my face and neck portions avoiding the jugular and thyroid part. Was I done? No, my sister started to prick my face which they call the Pixel Skin Resurfacing. Some contraption attached to the probe of the RF machine was applied to my acne scars to create micro wounds. This to stimulate collagen production and once collagen is renewed it creates a tightening of the skin. As she passed the roller thing on my cheeks, I smelled burnt hair which was actually a combination of burnt hair and skin. Since I had no anesthesia, I felt like a thousand bees just stung me. Boohoo.
Now if you think, I look dazzling , you're in for a surprise. I looked horrible. Red marks line around the micro wounds. It was temporary I know. An immediate change I noticed though was some fats seemed to have dissolved from my chin. My eye bags has some slight improvement because of the tightened facial skin. It feels like I had an eyebag lift. I was told that heating to my skin tissues depths therapeutically improves local circulation, promotes fibrous tissue breakdown, enhance the breakup of adipose tissue, helping to mobilize and eliminate fat deposits non-invasively, resulting in fats reduction.
I lived with this redness for a few more days as new collagen is produced. Not a pretty sight.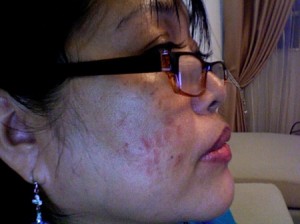 Since 2009, I don't use Pixel Skin Resurfacing treatment. That's another story for another blog entry.
How does this post make you feel?