Slow down and enjoy life. It's not only the scenery you miss by going too fast – you also miss the sense of where you are going and why. – Eddie Cantor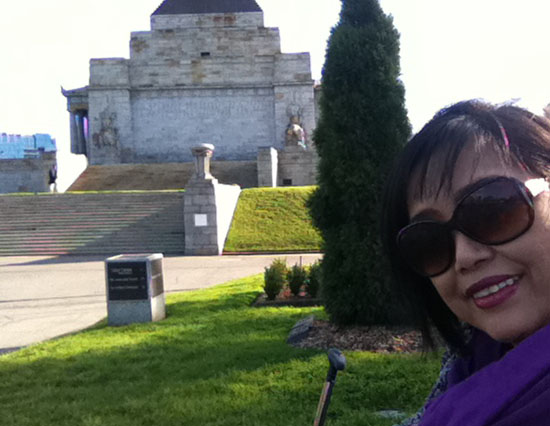 I find it amazing how much time I can spend in a garden doing nothing at all. That's what I did a year ago in Melbourne as I took the walking tour to the Secret Gardens. The problem with getting "old" ( meaning not the twenty five year old me) is this challenge of reading tram schedules or train routes. It seemed so much easier to comprehend when I was younger. These days, I need to sit down at the stop , check my iphone app before heading off to my destination. Everything needed to be in order or else I will get lost. I soon discover that getting lost in detours is quite an adventure as I walked towards the secret gardens.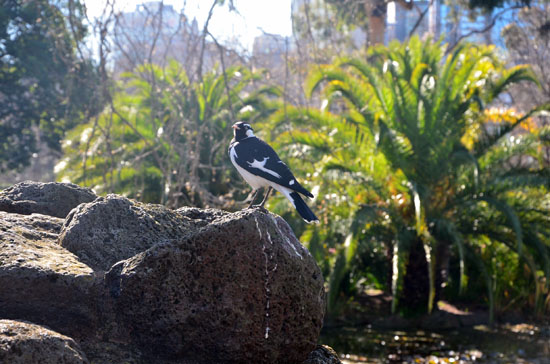 Strolling a fine landscape is like a piece of music and I wanted it to be a leisurely walk as I took photos with my Nikon D7000.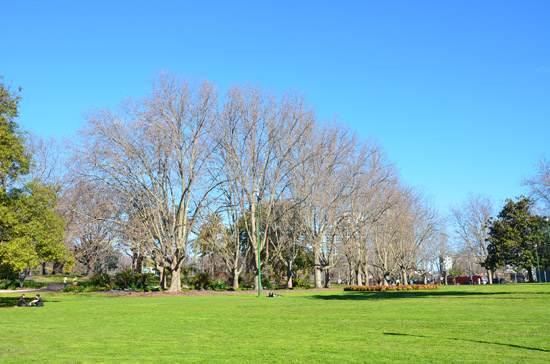 The walking tour guide said I needed to head off to Queen Victoria Gardens. The cool breeze felt comfortable even as the sun's rays were heating up my coat. Wandering along the many pathways under the shade of tall trees , I took the time to examine the leaves. I am struck with their shapes.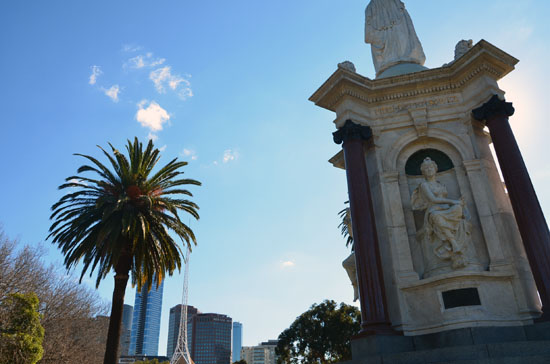 Pausing for a royal moment to inspect the Queen Victoria monument, I notice a couple of lovers nearby oblivious to my presence.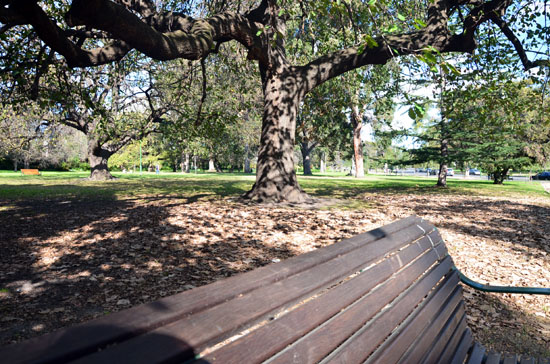 I stop by a bench before meandering towards the path leading to the Shrine of Remembrance. I have walked quite a great distance and all this time, I am wrapped with my thoughts. They say all truly great thoughts are conceived by walking. I intend to take these thoughts into action. The landscape is just lovely even if I am just in a park.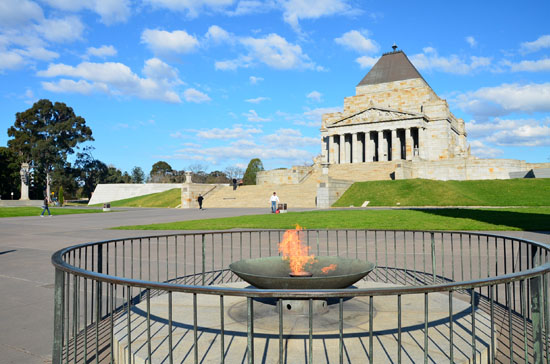 Walking towards the Shrine of Remembrance, I look up at the clear blue skies and enjoy the beauty of a hundred trees which were first planted in this parkland when water arrived in 1860. I remember the August 23 hostage victims as I stood by the eternal fire and prayed for them and our country.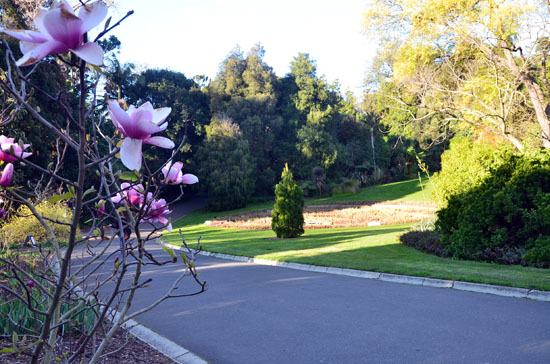 Strolling about the lush green world of the Royal Botanic gardens and home to 52,000 plants and 12,000 species around the globe is a discovery. I am fascinated at the unique Australian forest flora, the wide array of of the world -renowned Camellias, the water conservation and the conifers.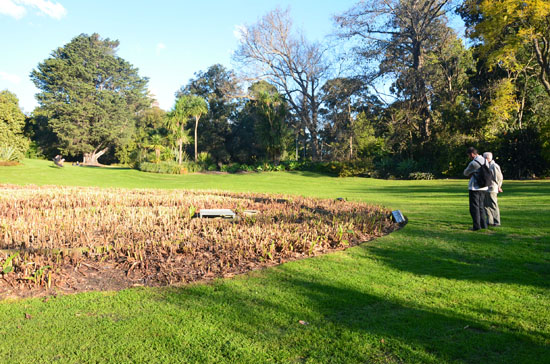 I rest every few meters checking my map because apparently, I am lost inside the Royal Botanic Garden.
And who do I see along my way?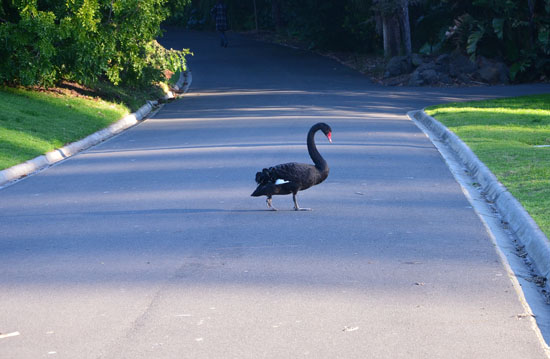 The black swan.
Oh so beautiful. It is my first time to see a black swan up close. I saw a few black swans at the Great Ocean road a few days ago. My daughter told me that black swans are native to Australia. I didn't know that.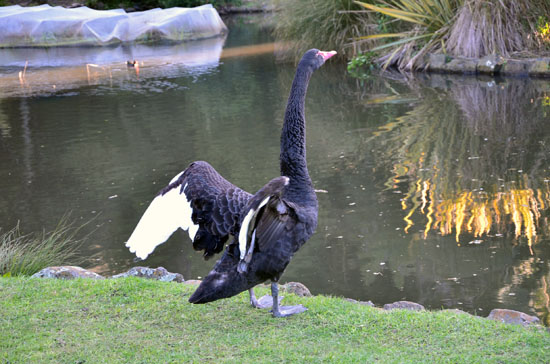 I watched this particular swan drink water by the man-made lake. Though this swan is mostly black feathered, I noticed some white flight feathers. The bill is bright red, with a pale bar and tip; and legs and feet are greyish-black.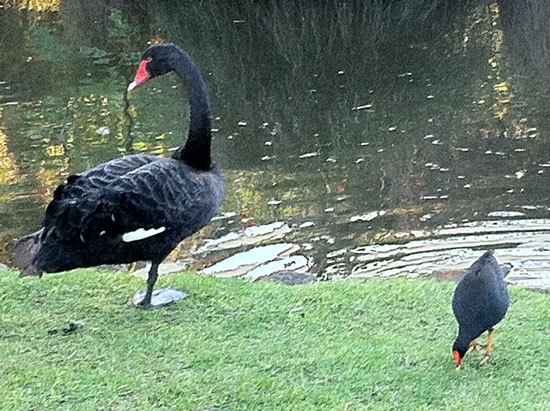 I spent an hour just watching the Black swan with the little ones. I heard they are very sociable birds. I would often "talk" to her and she would gaze up to me. She probably thought I had food so she went near me as I quickly took a photo of her. Her gaze seems to ask "any food for me?"
"No food." , I shook my head.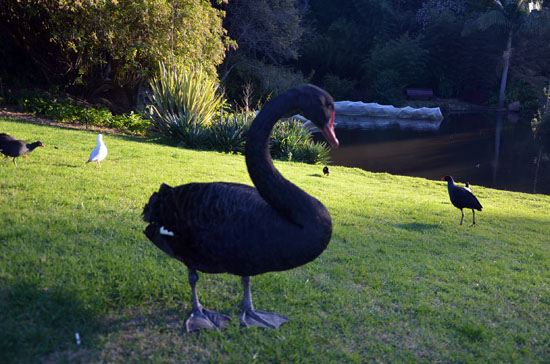 To her disappointment and mine, she sauntered off to the girls beside me.
I was appalled to see the black swan took a bite from the ice cream cone held by this lady. We laughed as the swan ate happily at her food. This swan must be spoiled by the park's guests. I hope they are safe with the food given by the public.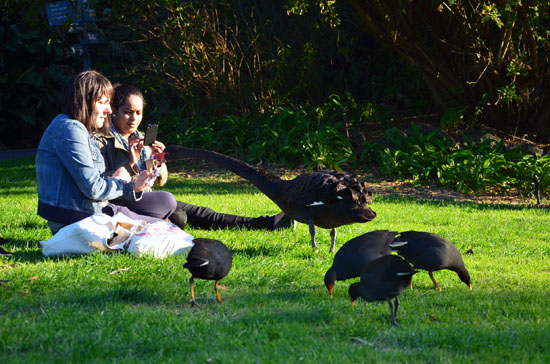 What a wonderful time with the black swan and the sight of the beautiful flora that the chilly weather reminded me that it was getting late. I told the black swan that it was time to head off to my hotel. It was so much fun just watching her by the lake.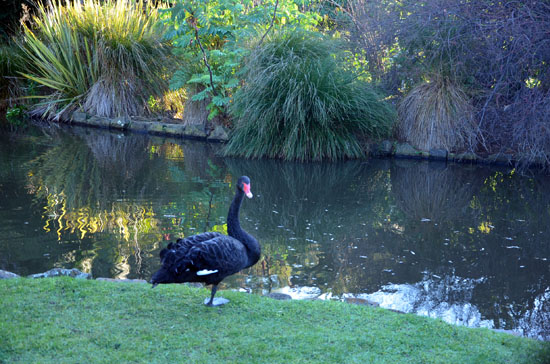 I felt refreshed by my afternoon walk at the secret gardens, thrilled by the scenery of the detours and surprises in each path. I am elated at the sound of the birds and the swans and sight of lovely flowers and trees.
Time alone was well spent.
Kuo Hsi once said that there are landscapes one can walk through, landscapes which can be gazed upon, landscapes in which one may dwell… Those fit for walking through or being gazed upon are not equal to those in which one may dwell or ramble.
These are the rewards of the simple life. Tomorrow is another day with a friend.
All walking is discovery. On foot we take
the time to see things whole.
– Hal Borland
How does this post make you feel?