A few years ago, folically-challenged me was at wits end trying to stop my hair from thinning out that I turned to virgin coconut oil. I suffered from thinning hair since I was 42 years old and the cause is probably unhealthy scalp aggravated by dandruff. I was already thinking of buying a wig on the event that the bald spot gets more obvious. Today, I am happy to say that my hair has more growth, is thicker and healthier. Hah, I sound like a shampoo commercial. *sways hair left and right* It looks like I have layered hair when in fact that's the new hair growing. I attribute my luscious hair growth to the twice a week coconut oil massage on my scalp which in turn stimulates the hair follicles. Even my hairdresser noticed my new hair growth. Enough of those expensive hair regrowth tonic or hair spa !
At least virgin coconut oil worked for me. I massaged my scalp just before I take a steam bath at the gym and let it steam for 10 minutes. For those without a steam bath, just leave it on your scalp overnight.
I prodded my husband to massage virgin coconut oil into his scalp 5 months ago. for months, I noticed my husband's pink scalp gleaming underneath his thinning white hair.
Sooner or later, you could get bald, I told him.
Not only am I happy to note I have thicker hair today, but I also noticed something odd with my husband's hair. True, he has thicker hair but….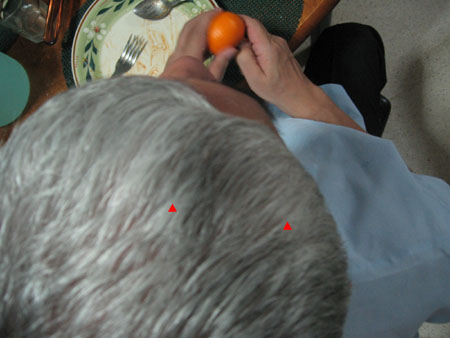 A growth of black hair emerges
part of his white hair has now a patch of black hair which was never there before (see the black hair in between the red arrow)
"hey you are revealing my secret!" he teases me as I take a snap.
His officemates notice the black patch of hair and has dubbed it the "racoon hair"
Could it be due to the coconut oil? Who knows? Maybe the dead hair follicles got stimulated, and nourished that it resurrected black hair?
The wonders of the coconut oil. After all, it came from the tree of life.
How does this post make you feel?